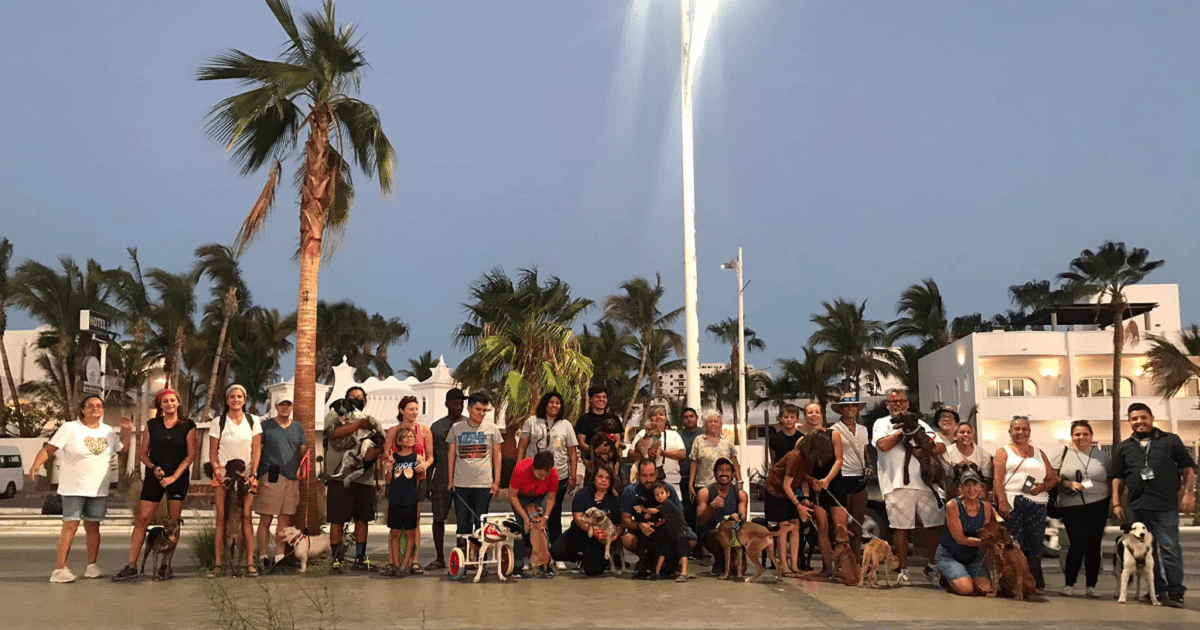 >
As we close out July 2022, Hope 4 La Pawz celebrates its first year in operation. And what a year it was! To say that most of the year was spent in transition mode would be a pretty accurate statement.
In June of 2021, Baja Dogs La Paz decided to focus solely on spay and neuter in La Paz. The people who were rescuing (rescatistas) from the estimated 50,000 stray and abandoned dogs in La Paz needed help. Considering that and the fact that we were a dedicated group of volunteers who wanted to continue to help those rescatistas, the Mexican A/C that had been in place since 2017 got a new name, Amigos de 4 Patas.
The Mexican charity allows us to operate legally here in Mexico. Amigos de 4 Patas (the Mexican charity) handles the process of intakes for rescued dogs, training and behavior, clinic and veterinary care, operation of our store, and all the rehabilitation work that happens here in La Paz. The Mexican charity files monthly financial returns with Servicio de Administración Tributaria (known as SAT or Hacienda).
On July 27, 2021, Hope 4 La Pawz was formed as a Washington State Charity and received 501(c)3 federal tax exemption status which benefits US tax payers. We also have California state tax exemption through the Franchise Tax Board.. Because we look forward to many adoptions in the state of Oregon, we are registered there as well. Hope 4 La Pawz files annual returns with the US Internal Revenue Service (IRS) and returns with Washington, Oregon, and California..
This move means that anyone who chooses to channel their care and generosity into helping our mission can do so with a tax-deductible benefit.
Our Mission is to:
Help people who rescue dogs to find suitable, safe and happy homes to be adopted to in order to help reduce the numbers of stray dogs in the streets of La Paz.
With the formation of Hope 4 La Pawz, all the adoption contracts formally under Baja Dogs La Paz were assigned and became the responsibility of Hope 4 La Pawz thus fulfilling the contractual obligations made to the adopters. It also gives the adopters the added confidence that they will continue to receive post-adoption support.
Other benefits of forming Hope 4 La Pawz include:
As a registered charity, Hope 4 La Pawz raises funds to support the efforts of Amigos de 4 Patas in La Paz.
An agreement with Alaska Airlines to transport dogs to their new homes offers a flat rate fee that keeps our and the adopters' expenses down. We also receive a low-cost alternative to ship empty crates back to La Paz. This agreement expands the reach to the Pacific Northwest and into Vancouver, Canada.
We can advertise our dogs for adoption on two of the largest adoption networks in America, Adopt-a-Pet and Petfinder.
A van donated for the purpose of transporting dogs up to San Diego was transferred to Hope 4 La Pawz which lowers the cost of transporting dogs. A benefit to the charity and the adopter.
Here are just a few of the highlights of the year in transition:
One of the first tasks the new organization faced was to accept eight of Abram's dogs who were left homeless when their owner died. Thanks to help from many in the community who fostered and to Casa Sheila for their help as well.
Our retail store increased its hours of operation due to volunteers' participation and the community shopping for our products. Store sales increased to over $370,000 MXN up from $218,000 in the previous year.
We opened Canada for adoption applications again.
Our fund-raising efforts got a huge boost when Parisio del Mar added us to their roster of charity tournaments raising $143,000 MXN.
The community support was tremendous in both donations of goods and buyers who came out to support our community garage sales. We saw an increase of 36% over the previous years' sales.
We conducted our first ever Adoption Event outside La Paz. In April, the event was sponsored by Mila's Mutts in both Vancouver WA and Portland OR. We show-cased some of our larger dogs that had been in the program the longest and as a result we got 15 adopted from this one event.
The number of adoptions and transports was maintained, and we even increased our caseload to 60 up from 40 during the previous year.
We reduced the amount of time it takes to adopt a dog from 218 days down to 94.
Municipality of El Centenario requested our help to conduct a spay & neuter clinic in the community for some of the lower income families. We included free vaccines (including rabies) to those pets participating.
We are always looking for ways to offer more services to the La Paz community and one that we are now offering is microchipping dogs. All our adopted dogs are microchipped and now we can now offer the service to the public at our clinic. We also use our microchip reader to reunite lost dogs with their owners. Read more here.
In summary, Hope 4 La Pawz replaced the financial support we received from Baja Dogs La Paz in the past and Amigos de 4 Patas increased their revenue by $267,405.27 MXN. All of which is critically important for continuing our wellness, food, and rescue/adoption support activities that we started 5 1/2 years ago.
Thanks to our loyal supporters, donors, and to the hard work of so many volunteers who increased their support in so many ways to help us make this transition a successful one.
We are focused on our mission and the goal is to continue making a difference in the lives of pets here in La Paz. We need your continued support to keep the momentum going and look forward to what the future brings!
For a detailed view of our Financials click here.
Thanks again to all of you who made this year a success! We are excited about what the next year brings — we've only just begun!