We are happy to update everyone on the status of Don Abraham's dogs. Many of you know that we at Amigos de 4 Patas arranged to have Abraham's dogs examined by our volunteer veterinarian, Dra. Rebeca, after Don Abraham's passing. Thank you to all who donated to help us with the medical needs of these dogs.
We set a $30,000 pesos or $1500 USD goal which should cover most of Blackie's chemotherapy treatment and the meds for the other dogs. So far, we have collected $600 USD or $12,000 pesos. As a result, we really need your help to continue the care. You can donate in the currency of you choice here and just select "Abram's Dogs" in the dropdown menu.
There is cautiously optimistic, good, and great news! The great news is that 2 of the dogs, Princessa and Ducessa have already been adopted.
Blackie, the big black pitbull who everyone knows and loves, is at Animaland being treated by Dr. Edson for Ehrlichiosis before he starts his treatment for TVT. Volunteers went a couple of days ago to see him and he looks great. When Blackie looked at them it was like he was saying "Thank you, getting 2 full meals of nutritious food every day along with some meds makes a fellow feel loved".
He really appreciated seeing visitors, because as you know he saw people every day of his life with Abraham. Blackie still has at least 4 more weeks of treatment for TVT, so if you would like to volunteer to visit Blackie at the hospital and walk him around the block, he would thank you with many kisses.
Blackie waiting for his exam at the
AMIGOS clinic.
Blackie is very thankful for his care.
Blackie in the car on his way to Animaland where he will get treated for his TVT cancer.
Blackie gets a visitor in the hospital from his nurse who helped
with his initial examination at the AMIGOS clinic.
Negra now Nova
Negra now Nova is being fostered by Mickie Kornhardt. Nova is a healthy and very happy little girl. She is in our adoption program and will soon be available to adopt.
Capitán
Capitan is being fostered by one of our ethology team, Isaac. According to Isaac, Capitan has overcome his depression and has integrated him into his pack, and he will now be working to train him in some basic commands. He too is a very happy boy.
Morena
Morena is being fostered by one of Casa Sheila's volunteers in Los Cabos. She is progressing well and loves being pampered. She will be put up for adoption in the US.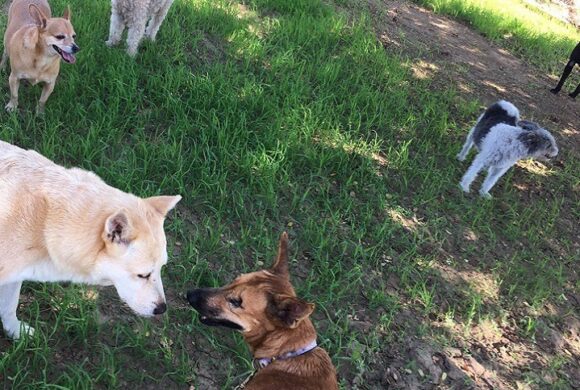 Guera and Loba – now renamed Gaia and Lola
Guera and Loba are now Gaia and Lola. They are being fostered by Barbara Vell in Centenario. We had a little excitement earlier last week when Gaia decided she needed an adventure. We had taken both to the vet for tests and Lola had to stay longer so we brought Gaia home. Well, they are pretty attached so when we left, Gaia thought she would try to follow us. We had quite the scare when we found her gone. She was gone a full 24 hours before she returned to Barbara's house very hot and thirsty. It was a very sweet reunion with Lola.
This was a great lesson with a happy ending. Secure all your new foster dogs well before you leave them, some of them are determined to leave and go back to where they came from.
Gaia has some health issues, she has problems with her kidneys, probably due to some past infections that were never treated that caused permanent damage. She will likely need special food for a good while if not for life. The vet estimated that Gaia to be about 8 – 10 years old so she is a senior who needs some special care.
Our cautiously optimistic news is about Lola. She is being treated with antibiotics for Ehrlichiosis, a tick-borne disease prevalent here in Baja, and until recently she was making good progress. However, she took a turn for the worse is now on IV and is being monitored in the vet's office. We are sending healing thoughts to her.
Streetlife is hard on dogs, they don't get regular food, sometimes only leftovers of "people" food, sometimes nothing at all for days. They drink water out of potholes in the street after a rain or if they are lucky, they find a water faucet that is dripping to get some freshwater. They are subject to fleas and ticks which cause blood infections that if left untreated will eventually kill them.
Your help to cover some of the medical costs for these dogs will be much appreciated.
Every little bit counts.